TRAINING FOR CAREERS IN AVIATION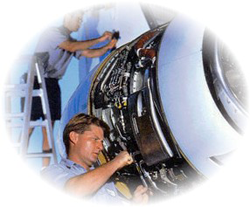 Aviation touches and impacts every element of our daily lives. It enables business and world trade to exist. Aviation is an integral part of our society, and there is a growing need for qualified people. There are many opportunities for a career in aviation, whether it is in civilian aviation or with the Canadian Armed Forces. Cadets who are interested in pursuing such a career should speak with their High School Counsellor who can help them plan their courses.
Educational and other institutions listed below offer training in aviation related careers. They are provided to enable cadets to make either initial contact or to review the organizations and their programs. Both Canadian civil and military sources in the Prairie Provinces are listed along with link connections to these organizations' web pages. Cadets are encouraged to explore these contacts and to seek additional information to gather full coverage of their interested areas.
Whichever role you chose to follow, you can find information at the following sites:
There will be additional sites that will be of interest to cadets looking for organizations that provide aviation training, therefore as you locate them pass them on to us for inclusion on this page.
---