INCIDENTAL DATA
Abdo (Albert) Ibrahim El Tassi, C.M., O.M., is the CEO and Director for Peerless, a local Winnipeg, unionized garment manufacturer.
Albert is a well known Business Man and Philanthropist who works tirelessly to promote understanding, tolerance and respect not only in Winnipeg but globally. His community commitments include board member of the World Trade Centre Winnipeg; Winnipeg Foundation; Global College; Winnipeg Chamber of Commerce; Canadian Forces Liaison Council; Addictions Foundation of Manitoba; Member of Manitoba Chamber of Commerce; Art Mauro Centre for Peace and Justice; Major fundraiser for the Children's Hospital Foundation and Winnipeg municipal hospitals; Founder of Alhijra Islamic School; Islamic Social Services; Canadian Islamic Chamber of Commerce.
Born in Lebanon and educated at the Al-Azhar University of Egypt. Albert considers with great pride and honour to have the privilege of making Winnipeg his home with wife Samira, their children and many grandchildren.
He was appointed as Honorary Chairman of the Manitoba Provincial Committee of the Air Cadet League of Canada in 2013.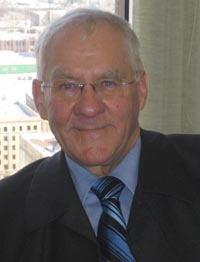 James Erwin Downey (born August 10, 1942) is a politician in Manitoba, Canada. He was a member of the Legislative Assembly of Manitoba from 1977 to 1999, and served as a cabinet minister in the Progressive Conservative governments of Sterling Lyon and Gary Filmon.
Mr.Downey was born in Melita, Manitoba. He served as an Air Cadet, and received an Agriculture Diploma from the University of Manitoba. Before entering political life, he worked as a farmer and auctioneer.
Mr. Downey was first elected to the Manitoba legislature in the provincial election of 1977, in the southwestern rural riding of Arthur. Mr. Downey was appointed as Minister of Agriculture on October 24, 1977. He subsequently served as Minister of Northern Affairs with responsibility for Native Affairs, the Manitoba Natural Resources Development Act, A.E. McKenzie Co. Ltd., the Manitoba Oil and Gas Corporation Act and the Communities Economic Development Fund Act. On April 21, 1989 he was also named minister responsible for Seniors.
He was named Deputy Premier on September 27, 1990, then served as Minister of Rural Development, Minister of Northern and Native Affairs and Minister of Energy and Mines and later to the Ministry of Industry, Trade and Tourism with responsibility for the Communities Development Corporation Act.
He continued to serve as Deputy Premier and Industry Minister until 1999.
PRESIDENT'S CITATION

"Presented to George Evans in recognition of 58 years of participation and contribution to the Royal Canadian Air Cadets. George was chosen for his very first flying scholarship in 1946. He served as a glider pilot on the first familiarization program in Penhold in 1969 and as an instructor on the first glider pilot scholarship in 1967. George is truly one of the builders of the Air Cadet Flying Program in Manitoba and the Prairie Region and continues to contriblute today. Thanks for putting the "air" in Air Cadets!"
George Evans began his career in the cadet organization with the Army Cadet Corps at Brandon Junior High in 1939. He attended an Army Cadet camp at Sandy Hook Manitoba. He joined the #82 Brandon Collegiate Royal Canadian Air Cadet Squadron in 1942.
George attended summer camps at #12 SFTS at Brandon in 1943 and Souris SFTS in 1944. He was chosen to participate in the first Glider Scholarship program, on the single seat SGS 1-19 glider at Chater Manitoba in 1945 and in 1946 was chosen for the first Flying Scholarship on the Tiger Moth aircraft at the Brandon Flying Club.
After graduating as a WO1 in 1946 George continued to serve as an instructor with #82 Squadron and was commissioned as a Pilot Officer in 1953.
George left Brandon in 1956 to pursue a career in Air Traffic Control. His first posting as an Air Traffic Controller was in Fort William where he worked as an instructor with #66 Fort William Squadron. When he transferred to Winnipeg in 1957 he joined #573 Legion 141 Squadron. In 1958 the Air Cadet League asked George to participate in the reactivation of the Gordon Bell School Squadron as #191 West Winnipeg Rotary Squadron. George served as Administration Officer and served as Commanding Officer from 1980 to 1986, during which the Squadron received the award as the Most Improved Squadron in Manitoba.
George was promoted to Major in 1985 and has received the CD and Bar. He retired from #191 Squadron in 1986 and joined the Manitoba Provincial Committee of the Air Cadet League.
George has a long history of contribution to the Air Cadet Gliding Program. He served as a glider pilot for the first familiarization program in Penhold in 1965. He was chosen as an instructor for the first Glider Pilot Instructor Course, also in Penhold, in 1967 and 1968. He received a letter of Commendation for his skill and assistance in developing the course.
George served as the first Operations Officer and Chief Instructor for the Manitoba Gliding Program, which operated at CFB Portage, as well as airports closer to squadrons such as Brandon, Dauphin, Rivers, Neepawa and Manitou. While George was in charge of operations Manitoba achieved a perfect flying record. He continued to serve Manitoba Air Cadets as Chairman of the Air Operations Committee of the Manitoba Provincial Committee for 24 years.
George was awarded th Air Cadet League Certificate of Honour in 2003 and the President's Citation in 2007. He was also the recipient of the Manitoba Air Cadet League Distinguished Service Award in 2010.
George is also active in the Shrine, the Western Canada Aviation Museum and is a Past-President of the Manitoba Soaring Council.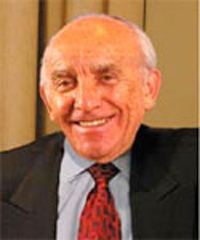 Arnold Frieman, a holocaust survivor and former pilot in the Israeli Air Force during their War of Independence, came to Winnipeg more than 60 years ago seeking a fresh start in life. Today and he is the president of Advance Electronics, the largest independently-owned retail electronics store in Western Canada, and a pillar of the community.
Arnold's successes go beyond business. He was recently honoured by the Jewish National Fund, was past president of Joseph Wolinsky Collegiate. His charity extends beyond the Jewish community. He is a former director and vice-president of programming for the Winnipeg Symphony Orchestra and member of the board of the Manitoba Conservatory of Music. He's also given time and resources to the Royal Winnipeg Ballet and his alma mater, the University of Manitoba, the latter of which in serving on the U of M's Medical Advisory Board. Arnold was also the first inductee into the Deer Lodge Centre Foundation's Honour Roll this past year and was recently inducted into the Order of Manitoba.
A strong supporter of the Air Cadet Program, Arnold was presented the Manitoba Air Cadet League's, Honourary Air Marshall Award in 2013. The League's squadron award for Community Involvement was renamed in his honour in 2017.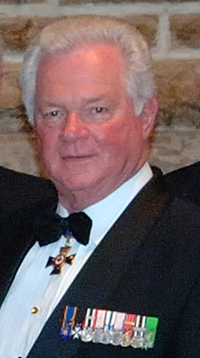 Lieutenant-General Allan MacKenzie was born in Jamaica and was a student at Jamaica College from 1944-1948. In 1950, General MacKenzie came to Canada and he joined the Royal Canadian Air Force in December 1950. After completing pilot training, he commenced flying duties as a Flying Officer in 1952.
General MacKenzie advanced through the officer ranks from Flying Officer to Lieutenant-General serving in a variety of flying and staff appointments. During his career he commanded a squadron, a base and the Maritime Air Group. In 1978 he was promoted to the rank of Lieutenant-General and appointed Chief of Staff for the Canadian Air Force.
In 1980, General MacKenzie elected to resign from the Air Force and subsequently became Executive Vice President and Chief Operating Officer of Gendis Inc. In 1989, he was promoted to President and Chief Operating Officer and in 1999 to President and Chief Executive Officer. He was on the Board of Directors for Sony of Canada Ltd. and a member of the Regional Advisory Board for Carleton University. General MacKenzie was also a Governor of the Canadian Corps of Commissionaires and an Advisor to the Association of Canadian Police Chiefs. He was decorated a Commander of the Order of Military Merit, an Officer of the Order St. Johns, and the Canadian Forces Decoration. He was also a Knight of the Order of St. Lazarus of Jerusalem. As well, he was a member of the Manitoba Club and the Royal Military Institute of Manitoba.
General MacKenzie was appointed the Honorary Chairman of the Manitoba Provincial Committee of the Air Cadet League of Canada in 2010. He was married to Valerie Ann Marchand and has two children, Michael and Barbara. General MacKenzie passed away in Winnipeg on September 10, 2012.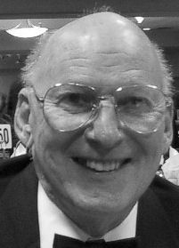 Captain John "Jack" Mowat was born in Winnipeg, Manitoba on April 29, 1925, eldest son of Edward and Naomi Mowat. Educated in Winnipeg, he joined the R.C.A.F. in 1943 and was commissioned at the age of 19 as a Wireless Navigator for the Mosquito aircraft. He was discharged from service in 1945 with the rank of Flying Officer.
In 1945 he joined the YMCA and it was then that Jack's focus in life turned to mentoring and training young men to be proper, responsible and capable adults. From that point in time, Jack devoted the balance of his life to this task, and as a consequence, was heavily involved in the community and many organizations in his effort to improve and enrich the lives of many young men.
In 1946 he became involved in gymnastics, a sport that he loved. He was initially an active gymnast himself and later became an instructor, judge, coach and mentor to many young gymnasts. He was a founder of the Manitoba Gymnastics Association in 1967 and rose to the level of National Judging Chairman for the Canadian Gymnastics Federation, ultimately traveling throughout Canada and to Japan, Russia, Cuba, Santo Domingo and France in the capacity of Coach, Judge or Meet Director. He was the Head Coach of the Junior Gym Team from 1969 to 1987 when the Downtown YMCA closed for renovations.
From 1956 to 1985 Jack was also heavily involved with the Royal Canadian Air Cadets serving initially as an instructor Supply Officer, later as Chief Training Officer and ultimately as a Commanding Officer, roles which he loved and to which he devoted his full attention. Jack was a member of the Air Cadet League Manitoba Committee and the Air Cadet League of Canada, and held many positions within both organizations.
In 1977 Jack was awarded the "Anniversary Medal" celebrating the 25th anniversary of the accession of Her Majesty the Queen for his contribution to the community for his work with youth in gymnastics as well as Air Cadets. In 1981 he was awarded a 25 year service gold pin for his membership in the Canadian Gymnastics Association and joined the honour roll of "Builders of Canadian Gymnastics". In 1988 Jack was inducted into the Manitoba Sports Hall of Fame as a Builder, an honour which he treasured throughout the balance of his life. In 1985 he received a Certificate of Service for 25 years of service to Canada from the Chief of the Defence Staff of Canada. He also received a Certificate of Appreciation in recognition of services rendered to the Royal Canadian Air Cadets Gliding Program.
Following his discharge from the R.C.A.F. in 1945, Jack began his working career cleaning spark plugs for Standard Aero. His adept skills at math and keen attention to detail saw him rise through the ranks rapidly culminating in a position with the Department of National Defence in the Aeronautical Inspection Directorate as an aircraft inspector where he initially inspected P-51 Mustangs before moving on to the CF 101 Voodoo. He was promoted to the Canadian Forces Technical Services Detachment C.F.T.S.D. HDOTS Winnipeg. He retired in 1990 as contract manager for Itinerant Contracts.
Jack was always proud of his efforts, his principles and his achievements. He was a car aficionado, and a fine marksman. He was a raconteur extraordinaire and maintained lifelong friendships with many of the gymnasts and cadets that he instructed and who came to exemplify all that Jack had stood for and that to which he had devoted his life. He loved his time at his cottage in Lac du Bonnet with his brother Norm, who Jack missed terribly after he passed away in December 2001.
John "Jack" Mowat died in Winnipeg on March 13, 2010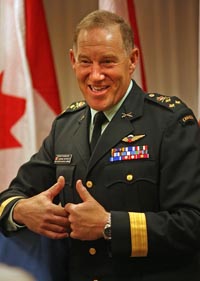 A native of Winnipeg and a former cadet at 220 Royal Canadian Air Cadets, General Natynczyk joined the Canadian Forces in August 1975. He attended Royal Roads Military College and Collège Militaire Royal in St. Jean, graduating in 1979 with a degree in Business Administration. His formative years were spent on NATO duty in Germany with the Royal Canadian Dragoons in troop command and staff appointments.
In 1983, General Natynczyk assumed duties as a Squadron Commander at the Royal Military College in Kingston, Ontario. In 1986, he commenced a five-year regimental tour in Petawawa, serving in several staff and squadron command appointments; this tour included six months of UN peacekeeping duties in Cyprus. On completion of Canadian Forces Command and Staff College, he served on the Army Staff in St. Hubert, Quebec.
In May 1994, General Natynczyk embarked upon a year-long tour with the United Nations in the Former Yugoslavia as Sector South-West Chief of Operations in Bosnia and Herzegovina within HQ7 (UK) Armoured Brigade, then as the Chief of Land Operations, UNPROFOR HQ in Zagreb, Croatia. In June 1995 General Natynczyk was assigned to the Vice Chief of the Defence Staff within National Defence HQ in Ottawa. He then commanded his regiment for two years, leading the Dragoons during domestic operations in the Ottawa region during the 1998 Ice Storm. General Natynczyk returned to Bosnia in 1998 as the Canadian Contingent Commander. On his return to Ottawa in March 1999 he was appointed J3 Plans and Operations during the period of deployments to Kosovo, Bosnia, East Timor and Eritrea.
General Natynczyk attended the U.S. Army War College and was subsequently appointed Deputy Commanding General, III Corps and Fort Hood. In January 2004, he deployed with III Corps to Bagdad, Iraq, serving first as the Deputy Director of Strategy, Policy and Plans and subsequently as the Deputy Commanding General of the Multi-National Corps (Iraq). Upon his return to Canada he assumed command of Land Force Doctrine and Training System. He was subsequently appointed Chief Transformation where he was responsible for implementation of the force restructuring and the enabling processes and policies. General Natynczyk assumed the responsibilities of the Vice Chief of the Defence Staff on 28 June 2006.
General Natynczyk was appointed Chief of the Defence Staff on July 1, 2008.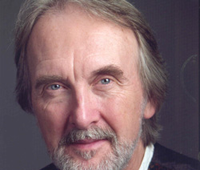 Fred Penner is a family entertainer and television performer who was born in Winnipeg, MB in 1946. He attended J.B. Mitchell Elementary School and Kelvin High School in Winnipeg and served as an Air Cadet with 170 RCACS before graduating from the University of Winnipeg B.A. in 1970.
Host of 'FRED PENNER'S PLACE' on CBC National TV 1984-- , Nickelodeon MTV U.S. Nat. TV 1989-93, Odyssey Cable Stn. USA 1997-- ; President, Cornelius Music Corp.; Vice President Oak Street Music (music publishing and recording label); served Knowles School for Boys Winnipeg residential treatment centres & Children's Home of Winnipeg 1969-72; toured Canada with Kornstock (a musical-comedy troupe) 1973-77; children's performer touring North America since 1978; with choreographer wife Odette, established Sundance Childrens Dance Theatre 1978-80; recipient Juno Award Best Children's Album 1988; has released 9 records, 8 nominated for Junos, National Parenting Publications' Awards (U.S.) Gold and Silver Medal Winner, recieved three Parents Choice Awards for videos The Cat Came Back, A Circle of Songs and What A Day; author of The Bump 1984; Ebeneezer Sneezer 1985; Rollerskating 1987; (with Sheldon Oberman) The Polka Dot Pony 1988; Sing Along Play Along 1990; Moonlight Express (Lullaby Recording) 1996; Honorary Chairman Rainbow Society; Adjudicator, Christie Biscuit Book Awards; Honorary Chairman Sunshine Fund; Honorary Chairman Canadian UNICEF Halloween Campaign 1991-92; Honorary Chairman, Canadian Down Syndrome Society
He was named a Member of the Order of Canada in 1992; recipient of an Honorary Doctorate and Distinguished Graduate Award, Univiversity of Winnipeg in 1995.
Fred resides and has his Office in Winnipeg.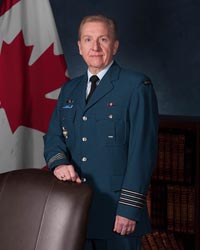 Mr. Barry Rempel was appointed as the first Honorary Colonel of 1 Canadian Air Division Headquarters in Winnipeg, MB in September 2012. He is also a member of the Royal Canadian Air Force Commander's Council and previously served as the Honorary Colonel of 17 Wing Winnipeg, MB.
Born in Carmen, MB., Honorary Colonel Rempel has some 30 distinguished years in the Canadian aviation industry. Prior to his appointment in 2002 as president and CEO of Winnipeg Airports Authority Inc., he was president and CEO of Tradeparks Development Corp., the land/business development subsidiary of Calgary Airport Authority from 2000 to 2002. From 1974 to 2000, Honorary Colonel Rempel was employed with Canadian Airlines International, his last position with them being chief executive for Cargo and Canadian North operating divisions.
A proponent of lifelong learning, Honorary Colonel Rempel was recognized with the top student award while studying business administration (marketing and retailing) at the University of British Columbia in 1980. He is also a 1995 graduate of the executive program at Queens University. He has also received his diploma in public relations from BCIT, along with his aviation ground school certificate.
Honorary Colonel Rempel has a strong commitment to community service and volunteers his time to the United Way of Winnipeg as well as serving on the Boards of Destination Winnipeg, Travel Manitoba, the University of Manitoba Associates, Canadian Chamber of Commerce, Airports Council International and the Canadian Airports Council.
Honorary Colonel Rempel and his wife reside in Winnipeg. When not involved in community activities, they enjoy "top down" touring of the many magnificent communities of Manitoba.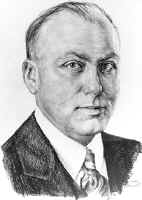 Canadian aviation pioneer James Armstrong Richardson was born in Kingston, Ontario in 1885. He graduated from Queen's University with a Bachelor of Arts in 1906 and joined James Richardson and Sons, Limited, a grain merchandising Firm founded by his grandfather. He became Vice-President of the company in 1912 and President in 1919. He moved the company's main office to Winnipeg in 1923.
Mr. Richardson founded Western Canada Airways Ltd. in 1926 and his aviation company helped open mining development in the North. His was the first national carrier and first to fly out of Manitoba's Stevenson airfield, built in what was then the Rural Municipality of St. James. The airfield would later become Winnipeg International Airport and in 2006 renamed Winnipeg James Armstrong Richardson International Airport. It is an honour in Canada not previously given to a private citizen.
In 1930, Mr. Richardson established a new carrier, Canadian Airways Limited, by amalgamating Western Canada Airways Ltd. with five eastern carriers to create one carrier to provide coast-to-coast air transportation and mail delivery. Canadian Airways Limited operated until 1942.
Mr. Richardson served on several boards of directors of Canadian companies, including the Canadian Pacific Railway, the Canadian International Bank of Commerce, International Nickel, the National Trust Company Limited, the Great West Life Assurance Company, and Canadian Vickers. He was also President of the Winnipeg Grain Exchange.
Mr. Richardson served as Chancellor of Queen's University from 1929 and until his death in 1939.
"In the annals of this nation's flying history, no businessman gave more of himself for less reward to the everlasting benefit of Canadian aviation."
- Canada's Aviation Hall of Fame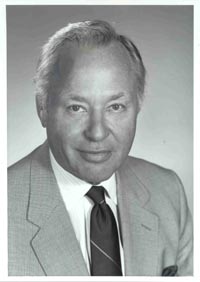 The Honourable James Armstrong Richardson, PC (March 28, 1922 - May 17, 2004) was a Canadian Cabinet Minister under Pierre Trudeau, and a Winnipeg businessman.
Mr. Richardson was born in Winnipeg, Manitoba and attended St. John's-Ravenscourt School. After attending Queen's University in Kingston, Ontario, he enlisted in the Royal Canadian Air Force. He served as an anti-submarine pilot based in Iceland and Labrador during World War II.
Following the war, Richardson joined the family business, James Richardson & Sons, Limited and in 1966 was named the Firm's Chairman and Chief Executive Officer.
He left the company to enter politics, winning a seat in the Canadian House of Commons in the 1968 election as the Liberal Member of Parliament for Winnipeg South. Richardson was appointed to the cabinet of Prime Minister Pierre Trudeau as a minister without portfolio on June 6, 1968. He also served as acting Minister of Transport for five days in early 1969, and was promoted to Minister of Supply and Services on June 5 of the same year. From November 27, 1972, until October 12, 1976, he was Minister of National Defence.
Mr. Richardson was re-elected without difficulty in the 1972 election. In the 1974 election, he defeated future Premier of Manitoba Sterling Lyon by only 1,266 votes.
Mr. Richardson was known as a "business Liberal", on the right wing of the party. He clashed with Prime Minister Pierre Trudeau over his plans to repatriate the Canadian Constitution and resigned from Cabinet in 1976 to protest the government's implementation of official bilingualism. In 1978, he left the Liberal caucus entirely and crossed the floor (by actually physically crossing it) to sit as an Independent MP for the remainder of his term. He was not a candidate in the 1979 election.
After leaving elected politics, Jim Richardson rejoined the Firm's Board from 1980 - 1989. He was also actively involved on the boards of the Canada West Foundation, the Max Bell Foundation and the Commonwealth Games Association of Canada.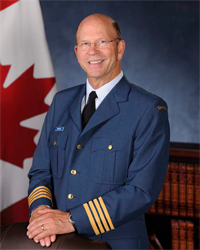 Mr. Ross Robinson, President and CEO of B.A. Robinson Co. Ltd, was appointed as Honorary Colonel of 17 Wing Winnipeg in June 2012.
Honorary Colonel Robinson has been active in national associations within his industry. He is past chair of the Canadian Electrical Distributors Association, past chair of the Canadian Institute of Plumbing & Heating, has served on the board of the Manitoba Young Presidents' Association, and is a director of the Winnipeg South Blues (Manitoba junior hockey league). In 2002 he was recognized as Entrepreneur of the Year - Western Canadian Prairie Region (Ernst & Young) and he credits his team for the fact that B. A. Robinson Co. Ltd. has been recognized nationally as one of Canada's Best Managed Companies for over eight years.
He believes in serving and supporting the community as a volunteer and fundraiser, donating to many community organizations. He is a board member, director and past director, and chair of a number of organizations including the Health Sciences Centre Foundation and the United Way Major Donor Committee. As co-chair of the Neeginan Foundation Capital Campaign (Thunderbird House), Honorary Colonel Robinson led the largest Aboriginal capital campaign of its time. He has also led capital campaigns for the Health Sciences Centre (Foundations for Health) and St. John's-Ravenscourt's (Soaring to New Heights), and currently serves as co-chair of the Western Canada Aviation Museum's capital campaign in Manitoba.
Honorary Colonel Robinson graduated from the University of Manitoba with a Bachelor of Arts (Economics) and continues to financially support both the University of Manitoba and the University of Winnipeg. He is a pilot with multi-engine land and sea and IFR ratings and is an avid supporter of all facets of aviation. He owns and operates a 1944 B-26 Invader and a 1952 Harvard 4 aircraft which are both active on the Western Canadian Air Show scene.
Honorary Colonel Robinson and Allana reside in Winnipeg and enjoy hiking, cross country skiing, and many outdoor activities at their cottage on Lake of the Woods.
Al Simmons is a Canadian children's performer from Winnipeg, Manitoba. He began performing in the 1970s and later made guest appearances on Fred Penner's television show as well as Sesame Street. He tours regularly across Canada and the United States. He has recorded numerous albums for children and won a Juno Award in 1993.
Mr. Simmons, a former Air Cadet with 170 RCACS, worked as a gas jockey, steelworker and clerk before becoming an entertainer. He started performing in amateur shows and volunteering his services for benefit concerts. He formed a comedy/rock band called Out to Lunch and then a comedy/folk band, Kornstalk, before venturing out on his own again as a musician and prop comic. His best known act was the Human Juke Box: "two bits a laff."
Mr. Simmons has released three CDs, "Something's Fishy at Camp Wiganishie," "Celery Stalks at Midnight," and "The Truck I Bought From Moe," each of which won Parents' Choice honours and were nominated for Juno awards. "Celery Stalks," an ode to vaudeville, won the 1995 Juno Award for Best Children's Album. His illustrated children's book "Counting Feathers" was short-listed for the McNally-Robinson Book of the Year in 1997. He received a Cable Ace Award nomination for his music video "I Collect Rocks," which is also the title track of his DVD.
Al married Barbara Freundl in 1976. They have three sons, Karl, Will, and Brad.
The Honourable Justice Murray Sinclair was appointed Associate Chief Judge of the Provincial Court of Manitoba in March of 1988 and to the Court of Queen's Bench of Manitoba in January 2001. He was Manitoba's first Aboriginal Judge.
Justice Sinclair was born and raised in the Selkirk area north of Winnipeg, and was an Air Cadet with 6 RCACS in Winnipeg. Graduating from his high school as class valedictorian and athlete of the year in 1968. After serving as Special Assistant to the Attorney General of Manitoba, Justice Sinclair attended the Universities of Winnipeg and Manitoba and, in 1979, graduated from the Faculty of Law at the University of Manitoba.
He was awarded the A. J. Christie Prize in Civil Litigation in his second year of law and articled with a law firm in his home town. He was called to the Manitoba Bar in 1980. In the course of his legal practice, Justice Sinclair practiced primarily in the fields of Civil and Criminal Litigation and Aboriginal Law. He represented a cross section of clients but by the time of his appointment, was known for his representation of Aboriginal people and his knowledge of Aboriginal legal issues.
Shortly after his appointment as Associate Chief Judge of the Provincial Court of Manitoba in 1988, Justice Sinclair was appointed Co-Commissioner, along with Court of Queen's Bench Associate Chief Justice A. C. Hamilton, of Manitoba's Aboriginal Justice Inquiry. In November 2000, Justice Sinclair completed the "Report of the Pediatric Cardiac Surgery Inquest," a study into the deaths of twelve children in the pediatric cardiac surgery program of the HSC in 1994.
He has been awarded a National Aboriginal Achievement award in addition to many other community service awards, as well as three Honorary Degrees for his work in the field of Aboriginal justice. He is an adjunct professor of Law and an adjunct professor in the Faculty of Graduate Studies at the University of Manitoba. He is married to Katherine Morrisseau-Sinclair, and is the father of three children: James, Dene and Gazhegwenabeek.
ELLWOOD, F/O Glenmore Benjamin (J11442) - Distinguished Flying Cross - No. 405 Squadron - Award effective 4 October 1943 as per London Gazette dated 15 October 1943 and AFRO 2610/43 dated 17 December 1943. Born in Portage la Prairie, Manitoba, 1918; home there; Enlisted in Winnipeg, 27 June 1941. Trained at No. 4 ITS (graduated 19 October 1941), No. 7 BGS (graduated 28 March 1941), No. 7 AOS (graduated 15 February 1942) and No. 1 ANS (graduated 27 April 1942). Commissioned April 1942. Died at Portage la Prairie, 27 March 1999. Airforce Magazine reported that he had been navigator to G/C J.E. Fauquier in No. 617 Squadron and that he was one of only three Canadians to have completed four tours.
Flying Officer Ellwood has completed many outstanding missions against the enemy's most heavily defended targets. His ability as navigator has contributed much to the successes attained by his crew.
ELLWOOD, S/L Glenmore Benjamin, DFC (J11442) - Distinguished Service Order - No. 405 Squadron - Award effective 29 September 1944 as per London Gazette of that date and AFRO 2373/44 dated 3 November 1944.
This officer has participated in a very large number of sorties, including seven against the German capital. He is a brave and devoted member of aircraft crew and has rendered service of immense value. In addition to his operational duties, Squadron Leader Ellwood has devoted much of his knowledge and energy in the training of other members of the squadron.
ELLWOOD, S/L Glenmore Benjamin, DSO, DFC (J11442) - Bar to Distinguished Flying Cross - No. 617 Squadron - Award effective 23 November 1945 as per London Gazette dated 4 December 1945 and AFRO 212/46 dated 1 March 1946.
Squadron Leader Ellwood has completed a very large number of sorties. He has operated almost continuously for over two years and has attacked numerous heavily defended targets, many of them at great distances from this country. These sorties called for a high standard of navigation skill. During his third tour this officer navigated the leading aircraft in all his missions. Squadron Leader Ellwood took an important part in the sorties against the German railway communications prior to the Rhine crossing when an outstanding success was achieved. He also participated in the attack against the German pocket battleship Luetzow [sic] in April 1945. Squadron Leader Ellwood has earned the admiration of those who served with him by his skill, courage and devotion to duty.
Biography provided by 6 (Jim Whitcross) RCACS
Flying Officer James Alexander Whitecross, D.F.C. was just one of the many gallant sons of Winnipeg who answered the call to defend England, and freedom, in the conflict now known as World War II.
Jim, son of Mr and Mrs James Whitecross, then of 183 Ash Street, was born in Winnipeg on March 3rd, 1917 at the height of World War I when aviation was in its early stages of development. He grew into a typical, healthy spirited youth, fond of games, the companionship of his friends, and most particularly, motorcycles.
Robert H Smith public school and St. John's College gave Jim his matriculation, and it was while studying Engineering at the University of Manitoba that he decided to answer the call to build up the Royal Air Force.
January 1939 saw Jim on his way to England, and by the time war was declared in September, he had won his wings. It was to be many months before Jim, now a fully trained combat pilot, had an opportunity to use his hard won skills against the enemy.
On the night of April 28th, 1941, while on a flight over occupied France, Jim was shot down and had to abandon his aircraft. By "bailing out" he won his parachutists wings. No official record has ever been released of his experiences in occupied Europe, but Jim, though down, was not out. After nine days in the company of other allied aviators, and with the assistance of the French underground, Jim managed to escape into unoccupied France. From there they moved into Spain only to be arrested and jailed. Fortunately, the Spanish officials, though after a fortnight, decided to "look the other way" and Jim and his comrades were on their way again. After a brief visit to Madrid, a crossing into Portugal (to see Lisbon) and on to British Gibraltar they eventually returned to Great Britain.
A few months later, with a career of perseverance and high daring already behind him, Jim was awarded with the Distinguished Flying Cross "For distinguished conduct while executing a low-level attack on an enemy airfield…"
Several weeks before his scheduled return to Canada, to have been in late September 1941, Jim volunteered to fly to the aid of an R.A.F. crew down in the North Sea. After successfully locating the crew and dropping supplies he set course for home. Before reaching the coast he radioed that he was experiencing engine trouble. No further word was ever heard from Jim, nor was any trace ever found of him or his aircraft. He was officially listed as presumed dead on May 28th, 1942. Jim is memorialized on panel 30 of the Runnymede Memorial to the Commonwealth Air Forces, outside of London, U.K.
With those words we could close the story of an upstanding young Canadian. It is our task to carry on this tradition of service that Jim Whitecross, and all the other men and women who have answered our country's call in time of war and peace, have established.
No. 6 (Winnipeg) Squadron was officially dedicated as No. 6 (Jim Whitecross) Squadron on April 20th, 1943 in a ceremony held at General Wolfe School. Jim's mother was in attendance, and was presented with a framed recognition of the dedication of the Squadron in her son's name.
Jim is remembered as a quiet-spoken, modest young man whose thoughts were never far from this country that he loved. He lives on thus in the memories of those that knew him, and as an inspiration to those of us who serve this Squadron that bears his name.
London Gazette Honours and Awards
Flying Officer James Alexander Whitecross, D.F.C.
WHITECROSS, F/O James Alexander (41888) - Distinguished Flying Cross - No. 50 Squadron - awarded effective 27 July 1941 as per London Gazette dated 28 July 1942. Born in Winnipeg, 1917; home there; educated at St.John's College School and University of Manitoba. Enlisted in RAF, 1939; killed in action 15 August 1941. AFRO 1497/42 dated 18 September 1942 (reporting his DFC) described him as a Canadian in the RAF. Air Ministry Bulletin 7611 refers. No published citation other than 'in recognition of gallantry and devotion to duty in the execution of air operations'. Public Records Office Air 2/8900 has recommendation for a DSO dated 27 July 1941 when he had flown 29 sorties (180 hours 45 minutes). However, a 30th sortie (incomplete) is described in the text. The document specifies that he is Canadian.
Flying Officer Whitecross has served in an operational unit for nine months. His conspicuous bravery and determination to attack his allotted target throughout this period and in all kinds of adverse weather conditions has been an outstanding example to the other pilots and air crews in his squadron. His consistently cheerful demeanour irrespective of the conditions and opposition which he encountered on his operational missions is worthy of the highest praise. His judgement and skill in finding his primary target and delivering his attack to the very best advantage have achieved the very highest results. His determination to do his duty is exemplified by the following example.
On the 29th April 1941 he was detailed to lay a mine in the harbour of La Rochelle. During this flight the oil pressure of his starboard engine started to fall and he accordingly altered his course towards his base. As he was reluctant, however, not to carry out his task to the best of his ability he descended to a low altitude and laid his mine at Lorient. By this time the oil pressure had fallen to 30 pounds per square inch and shortly after having laid the mine his starboard engine caught fire. He thereupon altered course in order to get over the land and having done so he ordered his crew to abandon the aircraft. After they had done so he also abandoned the aircraft by which time it had reached a height of less than 1,500 feet.
He alighted within a short distance of his crashed aircraft, divested himself of his parachute and immediately set out to make good his escape. After walking for seven days and enduring all kinds of hardships, he succeeded in getting out of occupied France into unoccupied France, where he was arrested. He was taken to an internment camp from which he subsequently succeeded in escaping and travelling by devious means he succeeded in reaching the Spanish frontier which he managed to cross without being detected. He made his way through Spain to Barcelona where he was again arrested and thrown into prison. He was eventually released from prison and with the aid of diplomatic representatives eventually reached Gibraltar from where he returned to this country.
His courage and tenacity it is considered are worthy of the highest praise and should receive official recognition.