AIR CADET GLIDING IN MANITOBA
"The Sky is the Limit"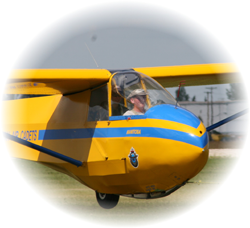 "When once you have tasted flight, you will forever walk the earth with your eyes turned skyward, for there you have been, and there you will always want to be."
Leonardo da Vinci
Gliding or soaring has been an international sport for many years. In ancient China, manned kites were used for military reconnaissance. The first glider seems to have been designed in 500 BC by Lu Pan a contemporary of Confucius, although this was more of a toy than a genuine aircraft.
In Europe, Sir George Cayley, 1773-1857, built the first heavier-than-air gliding machine in 1853 and had his coachman aboard when he tested the device that same year. An oft-repeated story holds that after the short flight Cayley's coachman, John Appleby, stated that he had been hired to drive a coach not to fly a glider and resigned his position. Otto Lilienthal, 1848-1896, in Germany, is another significant contributor to the development of this type of aviation. See the article on gliding in Wikipedia for more complete information about the art and science of soaring.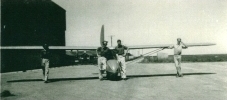 Air Cadet gliding first started in Manitoba when in 1945 a single seat Schweizer SGU 1-19 glider, CF-ZAG, was used at the Chater and Nettley airports by the Brandon Air Cadet Squadron. As the SGU 1-19 is an open cockpit single seat aircraft, cadets were on-their-own and this type of training was discontinued in 1948. Gliding was reactivated in 1970 when the Manitoba Committee obtained a two seat Schweizer SGU 2-22E. This aircraft, C-FACL, is now on display at the Royal Aviation Museum of Western Canada in Winnipeg.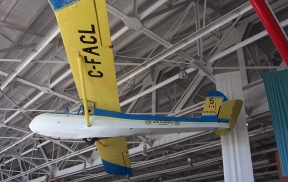 The Air Cadet Gliding Program is a partnership between the Air Cadet League of Canada and the Department of National Defence. The goal of the Air Cadet Gliding Program is to provide the cadet with a safe and positive aviation experience.
The Department of National Defence operates the program providing flying staff, maintenance and flight safety resources while the aircraft fleets and ancillary equipment is provided by the Air Cadet League of Canada.
Nationally the Air Cadet League and Provincial Committees own over 100 gliders and tow planes.
The Air Cadet League of Canada (Manitoba) Inc. presently owns two Bellanca Scout tow aircraft and five two-seat Schweizer SGS 2-33A gliders. We also own a glider recovery trailer, two equipment trailers and two pickup trucks; a total worth of over $300,000.00. These resources are leased to the Department of National Defence to meet the Air Cadet League of Canada's commitment to the Agreement between the League and the Department of National Defence for the Air Cadet Gliding Program.
The Program's spring and autumn familiarization flight operations take place at our gliding sites at the Brandon and Gimli airports. At Gimli, we are fortunate to share the Department of National Defence hangar for our program while at Brandon, the Brandon Flying Club provides a spare room for our operation. The Department of National Defence summer program for the Prairie Provinces and Northern Territories takes place at the Region Gliding School (North West) located at the Gimli Air Cadet Summer Training Centre.

All cadets are offered a familiarization flight as part of the Air Cadet Program and the Air Cadet Gliding Program has provided an average of one thousand familiarization flights for the Air Cadets of Manitoba each year.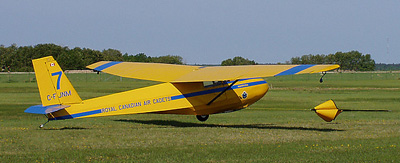 Several Manitoba Air Cadets receive their Canadian Glider Pilot's License after they have completed the annual summer program. They can then continue in the program advancing to passenger carrying status and then on to the Flight Instructor level.
The gliding program gives cadets the opportunity to apply the technical knowledge they receive in class to an actual flying experience. They study theory-of-flight, meteorology, navigation, aircraft maintenance and air regulations. Gliding teaches cadets to think for themselves by requiring them to make decisions to safely fly a glider.
When they successfully graduate from the summer gliding program, Air Cadets are awarded the Air Cadet Gliding Wing and the International Aviation Federation's 'A' Badge, signifying soloing in a glider. More about the Air Cadet Gliding Program is available in The Air Cadet Story.
For information regarding the Gliding Familiarzation Flying Schedule for Manitoba Squadrons, contact the relevant squadron's Commanding Officer.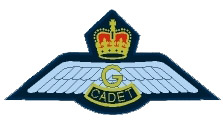 AIR CADET GLIDING PROGRAM AIRCRAFT

The 'Bellanca Scout' two seat aircraft is now produced in limited quantities by American Champion. The Champion Scout was introduced in 1974 when Champion was part of the Bellanca Aircraft Corp. The Scout originally existed primarily to serve as aerial jeeps. But they also appeal to a number of sporting pilots for use to transport fishing or hunting gear to remote sites. The 8GCBC Scout was introduced to the Bellanca Champion line in 1974 initially aimed at the bush and light aerial application.
The Scout was selected to augment the Air Cadet fleet of Cessna L-19 Bird Dog tow aircraft. The Air Cadet League of Canada (Manitoba) Inc. is the owner of two Scouts; Scout 3: C-GQNQ Serial #267-78 and Scout 4: C-GSSD Serial #216-76. All Air Cadet League of Canada Scouts are retrofitted with metal spar wings.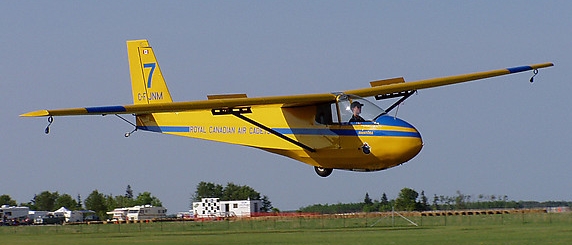 Aircraft Manufacturer: Schweizer Aircraft Mfg. in Elmira, New York, U.S.A. Schweizer was purchased by Sikorsky Aircraft Corporation in September 2004.
Owner Name: Air Cadet League of Canada (Manitoba) Inc.
Schweizer Aircraft Manufacturing in Elmira, New York built 579 of these robust two seat gliders. This aircraft is known for its forgiving characteristics; its slower airspeed and stall speed make it a good choice for teaching approach patterns and landing technique. The Schweizer Aircraft SGS 2-33 prototype first flew in 1965 and volume production began in 1967.
The SGS 2-33's have been the glider of choice in the Air Cadet Gliding Program since the early 1970s. It has an all-metal wing structure and steel tube fuselage with moving tail surfaces covered in 'poly fibre' fabric. The "A" model, introduced in 1968, has a larger rudder. The Air Cadet Gliding Program operates both SGS 2-33 and 2-33A models.
The Air Cadet League of Canada (Manitoba) Inc. is the owner of five SGS 2-33A aircraft; Glider 5: C-GSOR Serial #359 (1974), Glider 6: C-GCLE Serial #319 (1974), Glider 7: C-FJNM Serial #278 (1973), Glider 13: C-FYLQ Serial #142 (1969) and Glider 17: C-FWJY Serial #75 (1968).
---