JOINING AIR CADETS
- To Learn - To Serve - To Advance -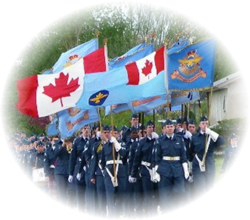 The Aims of the Air Cadet Movement are:

To develop in youth the attributes of good citizenship and leadership;
To promote physical fitness; and
To stimulate the interest of youth in the aviation and aerospace industry, including the Royal Canadian Air Force.
More than 450 Air Cadet Squadrons offer our dynamic aviation oriented program to over 24,000 youths across Canada. Twenty-four of the these squadrons function in seventeen cities and towns in Manitoba. The Air Cadet program offers challenges, friendship and adventure for Canadian youth who have had their twelfth birthday but have not reached their nineteenth birthday. Squadrons usually meet one night each week and will have special activities on some weekends.
The Cadet Program is funded by the Government of Canada, through the Department of National Defence, and in partnership with the civilian Air Cadet League of Canada. Although Registration and Uniforms are provided without charge the civilian sponsor requires local community support to meet its obligations that include accommodations, training aids and equipment and program enhancements not otherwise provided. Parents and cadets are expected to participate and contribute to fund raising as required by the League's local sponsoring organization.
Cadets are not members of the Canadian Forces, nor is there any expectation for them to join the military. Air Cadets participate in aviation-related activities and may learn to pilot gliders and light aircraft.

The training program is divided into two training periods:
Local training - Cadets participate in training at their home squadron on a weekly basis during the regular school year from September to June. The formal program is divided into five levels; and

Summer training - Air Cadet Summer Training Centres throughout Canada, with cultural and training exchanges abroad, train approximately 10,000 cadets and offer employment to senior cadets each summer.

To be eligible to join an Air Cadet Squadron you must:
be between the ages of twelve and eighteen; you may join at any time during the active year (September through June); and
be a Canadian citizen or a landed immigrant.

To join the air cadet program:
Step 1: Consult the Squadron Location Map to find an air cadet squadron near you. To become an air cadet, you must join one of these local squadrons.

Step 2: Contact them. For each squadron listed, there is information about their meeting location, meeting day and time and how to contact them. Call the squadron if you have questions or show up at the squadron during one of the training nights to register.

Step 3: You can pick up a copy of the registration forms at the squadron, fill them out, have them signed by your parents and bring them back to the squadron (or bring your parents to the squadron with you). You will also need a proof of provincial health coverage and legal residency (Canadian birth certificate, citizenship certificate, etc.).
The Air Cadet Story explains the growth of the Program from its origin in 1941. More information about Air Cadets and complementary information about the program is available on the National Cadet Web Site. Further information can be obtained for the individual Manitoba Squadrons that are listed on this site, or also, at the Air Cadet League of Canada National Web site.
AIR CADETS



It's a Whole New World!
---