IN MEMORIAM
Through the years that the Air Cadet Program has functioned in Manitoba many individuals have provided numerous hours of their time to ensure the program has been available for our Air Cadets. Some have achieved significant influence on the program. They have passed on, accordingly in respect and in recognition of their many years and financial backing we have enclosed these short biographies.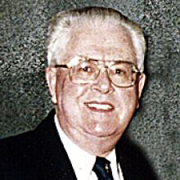 ALBERT WILLIAM (BERT) ALDRICH Peacefully on March 29, 2012 Albert passed away at the Deer Lodge Centre at the age of 94. He was predeceased by his first wife Margaret, and his second wife Kathleen. His memory will be forever cherished by his wife Frederica; one son Hugh as well as numerous extended family, friends and Air Force Association Members. Albert worked as an accountant with Billinkoff Lumber. Dad was a veteran of the R.C.A.F. during the war, he was a member of 500 Wing R.C.A.F. and past president and treasurer of same. A former member of the Mason's and as well he was the former commanding officer of #220 and 176 Air Cadet Squadrons and a member of the Air Cadet League of Canada. The Family wish to thank the staff at the Deer Lodge Centre Tower 7, physiotherapy staff and Floors 2 and 3 for their care and compassion. In lieu of flowers, donations may be made to the Deer Lodge Centre in memory of Albert. Chapel Lawn 885-9715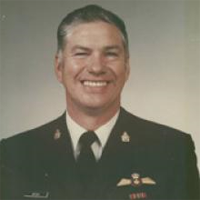 RAYMOND DAVID JAMES BROWN It is with deep sadness that we announce the passing of Raymond David James Brown with family at his side as he took his final flight after a brief but courageous battle with cancer. He was 70 years old. Leaving to mourn his passing are his wife Darlene of over 48 years; daughter Jackie (Dave); son Stuart (Jane); his sisters Elaine (Allen) and family, Marilyn (Al) and family; and brother Keith; brother-in-law Jim (Avis) and family; his grandchildren Derek, Nicole, Delaney, Ryan and Lauren whom he was so very proud of; and many other family and friends. He was predeceased by his parents and a niece. Raymond was born on November 1, 1942, in Unity, Saskatchewan. He joined the military in the spring of 1962 while attending the University of Saskatoon. Ray and Darlene married in September, 1964, and began their tour of military postings that included Moose Jaw, Portage la Prairie, Winnipeg, Edmonton, Ottawa, Winnipeg, Toronto, Winnipeg, Trenton, Regina, Edmonton then back to Winnipeg. Lieutenant Colonel Brown flew many aircraft but the highlight of his career was his over 5000 hours on the Hercules and his time as Commander of 435 Squadron in Edmonton and leading Op Nile a famine relief mission in Ethiopia. After 31 years of loyal service to his country he retired from the Air Force and started a new career at Transport Canada where he continued to fly until 2005. He was an avid golfer and curler. He enjoyed travelling with Darlene and spending summers at the cabin fishing, boating, entertaining and just enjoying life. He loved to putter around in his shop doing woodworking but his favorite pastime was watching his grandchildren in their sporting events and other activities. In lieu of flowers, donations in Ray's memory may be made to a cancer charity or other charity of your choice.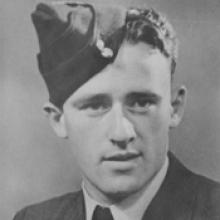 ALEN TREVOR HANSEN April 14, 1924 - May 23, 2014 "I Have Passed From This Life To Another" Dad passed away peacefully with family by his side, at the St. Boniface Hospital, on May 23, 2014 at 1835 hours. We grieve deeply for the loss of this honourable man. He is survived by Millicent, his wife of 59 years. Predeceased by his eldest son, Robert Alen, in 1976. He is survived by his son Brett (Diane), daughters Jo Ann (Ralph) and Shannon (John). He will be missed by his grandchildren, Lee, Brett, Laura, Jonathan and Matthew. He leaves behind members of the Hansen family in New Zealand and the Bonner family across Canada. Oh, and we must not forget Dad's mysterious but constant companion for years, Henrietta Fussyfeathers. Although we never met her, she has always been a part of our family. Dad was born in Taihape, New Zealand, the fifth of eight kids. He enrolled in the R.N.Z.A.F. in 1942 and departed New Zealand for Canada under the British Commonwealth Training Program. That began Dad's colourful and fulfilling aviation history in varying degrees for the next 72 years. Please join our family for a celebration of Dad's life on June 8, 2014, from 1300 to 1600 hours, at the Western Canada Aviation Museum, 958 Ferry Road, Winnipeg, Manitoba. In lieu of flowers, a donation to the Air Cadet League of Manitoba, Suite 153, PO Box 17000, Stn. Forces, Winnipeg, MB, R3J 3Y5 or The Western Canada Aviation Museum would be greatly appreciated.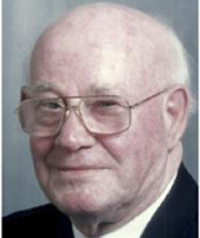 DOUGLAS JAMES INGLIS "Oh! I have slipped the surly bonds of earth, And danced the skies on laughter-silvered wings" - John Gillespie Magee, Jr.
Doug passed away on September 1, 2013 at the age of 95. Left to miss his sense of humour and his stories are Caroline, his loving wife of 66 years, son Charlie (Janice), daughter Dorothy, grandchildren; Meredith (Kevin), Iain (Gina), Chris and Neil and great-granddaughters Maddy and Lily. Also his sisters Doreen and Frances (UK), Anne (Canada), brother Jim (Australia) and sisters-in-law Dorothy (Canada) and Joan (Australia), as well as his many nieces and nephews. Doug was born in London, England and raised and educated in Edinburgh. He joined the RAF prior to the Second World War. He served with Coastal Command and then flew with Bomber Command during the war. After the war he was posted to Transport Command, flying to far flung places in Europe, the Middle-East, Africa and Far East. On leaving the regular service he ran a successful family business in Edinburgh and became an officer with the RAF air training corps (equivalent of Air Cadets in Canada). In 1969 the family immigrated to Canada. After becoming established here, Doug's abiding interest in flying came to the fore again and he became involved with Air Cadets. Over the years he encouraged many cadets "To Learn - To serve - To Advance". With retirement from the Bay, he continued as a member and ultimately provincial chairman of the Air Cadet League of Manitoba. He also was a member of the Wartime Pilots Association, RCAF Association and No. 4 Legion. The family thanks Dr. Fatoye and staff on the 5th floor of Seven Oaks Hospital for their care and compassion during Doug's last few weeks of life. A private family memorial will be held in Ottawa at a later date. To view a selection of pictures of Doug's life on the web go to http://tinyurl.com/douginglis In lieu of flowers, donations may be made to Manitoba Air Cadet League Trust Fund, The Air Cadet League of Canada (Manitoba) Inc., Suite 153, P.O. Box 17000 Station Forces, Winnipeg, MB R3J 3Y5. For those who wish to sign the online Guest Book please visit our website. Chapel Lawn www.chapellawn.ca 885-9715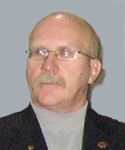 TERENCE LYNN LEWIS Born on July 17, 1952, Terry passed peacefully at home on March 24, 2017. Terry (aka Louie) (aka Steve Steele) is survived by his loving wife Lorraine, sons Matt, Rob and Mike (Kami) and granddaughter Gwynned; brothers Barry (Marlene) and Wayne (Donna); sister Arlene, and nephews, nieces and hundreds of great friends who were family.
Terry spent his life in the world of aviation, from a small child hanging out with his dad at the Regina Flying Club, to an adult with a 35 year career as an Air Traffic Controller, paralleled with 40 years as a pilot. His other passions were scuba diving and the Air Cadet League of Manitoba, where he served as Provincial Chairman, receiving the Douglas Inglis Award for distinguished service and the National Volunteer Service Medal. His devotion to his family and friends is the legacy he wished to leave as a lasting memory.
A very special thank you to Dr. Kim Wiebe, Dr. Adrian Robertson, Erin, Megan, Kaitlyn, Stonewall Home Care - Michelle Loehmer, Cathy Rudyk, Rhonda Olson, Scott and Santos. Your passion, empathy and care during this time were deeply appreciated. A memorial service will be held at 11:00 a.m., Saturday, May 20, 2017 at the Western Canada Aviation Museum. This is to be a happy, casual event and at Terry's request, each person is expected to tell a joke - good or bad! In lieu of flowers, please donate to the Winnipeg Humane Society or the Air Cadet League of Manitoba.
MacKenzie Funeral Home Stonewall 204-467-2525 info@mackenziefh.com
As published in the Winnipeg Free Press on Mar 28, 2017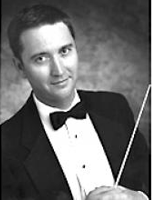 DR. GREGORY WILLIAM LINDAHL July 10, 1963 - March 28, 2014 Greg Lindahl passed peacefully from this life on earth after a valiant fight with cancer, surrounded by loving friends and the music he loved. Only child of the late Earl and Helen Nykoruk Lindahl, he is survived by aunts and uncles including Elsie Nykoruk of Winnipeg, Luverne Lindahl of Thief River Falls, MN, Glen Lindahl of Dubuque, IA, and Aldyne Salmi of Daphne, AL. He is also survived by his beloved godchildren, Emily Grace Roche and Padraig William Boland, and many other loving family members and friends whom he considered to be family.
Greg earned the Bachelor of Music in Music Education from Brandon University, a Master of Music in Music Education from Northwestern University, a Graduate Fine Arts Diploma in Wind Conducting and Literature from the University of Calgary, and a DMA from the University of Arizona. He taught instrumental music at Saint Paul's (Jesuit) High School for 15 years as well as at College Jeanne Sauve. He later transitioned into higher education, teaching music and music education at California State University at Northridge, the University of Manitoba, Converse College in Spartanburg, SC, and Florida International University before retiring in 2013. A great passion was his 20 year service as an officer in the Air Reserve of the RCAF.
Greg's loving and devoted friendship, happy optimism, and infectious laughter made the world a brighter place for those who were privileged to know him and his legacy will continue through his many students who today are making a difference in the world as musicians, impassioned music educators, and good citizens. Family and friends would like to express their gratitude to Brendon Boland and Lauren Hope and countless other friends and family who lovingly cared for him in his final days. A Memorial Mass to celebrate the life of Greg will be held at 10:30 a.m. on Tuesday, April 1, 2014 at St. Paul's (Jesuit) High School in Winnipeg. In lieu of flowers, it is suggested that memorial gifts be made to the Bursary Fund at St. Paul's High School, 2200 Grant Ave., Winnipeg, MB, R3P 0P8.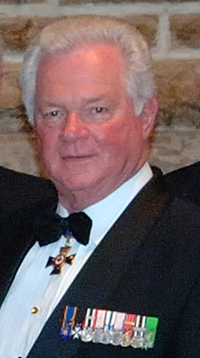 LIEUTENANT-GENERAL G. ALLAN MACKENZIE C.M.M., O.St.J., C.D. Honorary Chair of the Air Cadet League of Canada (Manitoba) Inc. Allan passed away peacefully at the Victoria General Hospital on September 10, 2012, surrounded by his loving family. He was born in Kingston, Jamaica on December 15, 1931, the son of George Adam and Annette Louise MacKenzie. He attended Jamaica College from 1944 to 1948. He started his flying career with BOAC which led to him fulfilling his dream of moving to Canada in 1950 to join the Royal Canadian Air Force. After completing officer training and pilot training, he commenced his flying duties in 1952, as a Flying Officer. Allan advanced through the officer ranks to Lieutenant-General serving in a variety of flying and staff appointments. During his career he commanded a squadron, a base and the Maritime Air Group. In 1978, he was promoted to the rank of Lieutenant-General and appointed Chief of Staff for the Canadian Air Force. In 1980, Allan elected to resign from the Air Force and subsequently became Executive Vice-President and Chief Operating Officer of Gendis Inc. situated in Winnipeg, Manitoba. In 1989, he was promoted to President and Chief Executive Officer. Allan also served a year as President of Sony of Canada. He was on the Board of Directors for Sony of Canada Ltd. and was a member of the Regional Advisory Board for Carleton University. Allan was also a Governor of the Canadian Corps of Commissionaires and an advisor to the Association of Canadian Police Chiefs. He was decorated a Commander of the Order of Military Merit, an Officer of the Order of St. John's, and the Canadian Forces Decoration. He was also a Knight of the Order of St. Lazarus of Jerusalem. He recently received the Queen's Diamond Jubilee Medal. As well, he was a member of the Manitoba Club and the Royal Military Institute of Manitoba. Allan was appointed the Honorary Chairman of the Manitoba Provincial Committee of the Air Cadet League of Canada in 2010. Allan was predeceased by his first wife, Doris (nee Elliott), his siblings David (Mickey) and Audrey as well as his father and mother. Allan will always remain in the hearts of his loving wife, Valerie Ann and his two children Michael (Pam) and Barbara (Blain) as well as his grandchildren Lyndsey, Robyne, Marc, Kiera, Leanne and Rhys. Allan's legacy will be his strength, his integrity and his determination.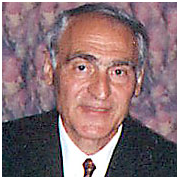 Aristotle (Telly) Mercury died peacefully at the Health Sciences Centre on February 22, 2010 after a happy and successful life. He leaves his wife of 40 years, Nancy, sons John Paul, Jamie (Kim), Mark, grandson Aris, brother Michael (Maria), sister Catherine Roussalis (Louis), his mother Evangeline and many nieces and nephews. Telly was predeceased by his father John Mercury.
Telly was born on September 2, 1934 in Winnipeg. A graduate of the University of Manitoba Law School, Telly articled with the law firm of Campbell and Haig and received his Bachelor of Laws Degree with Honours in 1960, being the year of his call to the Bar. He continued his practice with Lorne Campbell, Q.C. and became a partner of the firm known as Campbell and Mercury. In 1964, the firm merged with the Aikins, MacAulay firm where he continued the practice of law until his recent illness. Besides being a gifted corporate lawyer, his outstanding people skills made him a successful negotiator. He was the legal expert to whom the late Ben Hatskin turned in order to break the N.H.L. monopoly on professional hockey and to establish the World Hockey Association ( WHA ). It was Telly who concluded the million dollar deal with the Golden Jet, Bobby Hull, to bring him to the Winnipeg Jets. As General Counsel to both the Winnipeg Jets Hockey Club and the WHA he oversaw the establishment of various hockey franchises in Canada and the United States. Telly was very active in the legal community. He was President of the Manitoba Bar Association in 1977 - 1978, a member of the Bar Planning Committee in 1979 - 1980, and a past Provincial Chairman of the Judicial Appointments Committee. He was appointed Queen's Counsel in 1983.
Telly served his community in many other ways. He was a director of the Hong Kong-Canada Business Association, a board member of the Air Cadet League of Canada (Manitoba), a member of the The Royal Canadian Legion Branch 182 (Gimli) and of the Deer Lodge Centre Foundation. He incorporated the Hellenic Greek Orthodox Church of Winnipeg, served as its General Counsel and was a member of the board for many years. Telly was also the Chairman of the legal committee and General Counsel of Judo Canada. Telly proudly held a 5th degree black belt in Judo, was a former Manitoba Black Belt Champion and represented Manitoba seven consecutive times in the Canadian National Judo Championships. Known as the the General by many of his close friends, Telly will be fondly remembered for his unpretentious, easy going, yet highly principled approach to life. There was never a person for whom he would not make time, and seldom a problem from which he would shy away.
His friends, his colleagues, his clients and, most important, his family, were everything to Telly. His professional and athletic accomplishments pale in comparison to what he brought to the lives of his wife and children. Telly was, in a word, PHILOTIMOS which in Greek means a man of honour and compassion. Simply put, he had nobility of character. He will be greatly missed.
The family wishes to extend its thanks and appreciation to Doctors Rajat Kumar and James Johnston at CancerCare Manitoba and Telly's good friend, Dr. Kevin Coates, for their excellent care. They also express their deep gratitude and thanks to the highly professional and dedicated nursing staff at both CancerCare and the Health Sciences Centre. Prayer services will be held at 7:00 p.m. on Friday, February 26, 2010 at St. Demetrios Greek Orthodox Church, 2255 Grant Ave. Funeral services will take place at the church at 11:00 a.m., Saturday, February 27, 2010. Interment will follow the service at Thomson In the Park Funeral Home and Cemetery, 1291 McGillivray Blvd. EONIA E MNIMI TOU May his memory live forever. In lieu of flowers, donations may be made to the Aplastic Anemia and Myelodysplasia Association of Canada, Research Fund, 11181 Yonge Street, Suite 321, Richmond Hill, ON, L4S 1L2 or online at www.aamac.ca. THOMSON FUNERAL HOME 669 Broadway, Winnipeg, MB R3C 0X4 783-7211 Condolences may be sent to www.thomsonfuneralchapel.com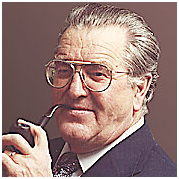 Born in Stonewall, MB, dad was a real character! His mischievous ways, interest in animals and love of family and friends were his life's passions. Dad and Poppa will be lovingly missed by daughters Marilou, grandsons Jonathan and David McPhedran Waitzer, Betty Ann (Don Rocan), Edith Mae, granddaughters Chelsey and Alexandra McPhedran. Survived by his sisters Elizabeth J. Turner (John A.) of Sacramento, CA, and Donna Cowan Eggertson of Toronto, Dad was predeceased by his wife of 62 years, Mabel, his father Franklin McPhedran, mother Lillian Bertha (Brinkworth) McPhedran Vipond and brother Gordon.
A volunteer in the Royal Canadian Air Force during the Second World War, dad went AWOL to marry his high school sweetheart, Mabel Slatcher, prior to deployment overseas. On his return, with Mabel working to support them, dad attained his Doctor of Veterinary Medicine at the Ontario Veterinary College in Guelph. Choosing Neepawa, MB to establish their veterinary clinic, dad and mom raised three daughters, obtained their private pilot licenses and began their life-long support of the Air Cadet League of Canada.
Dad - known to many as the flying vet - landed in farmers' fields, flew his family coast-to-coast, enjoyed remote Northern fishing and hunting trips with friends, attended Air Cadet activities and founded the Neepawa Aerial Spray Charter Company. Dad and mom supported the Air Cadets through bursaries and hosting barbecue parties for exchange students at their home on the Red River, replete with delicious food and hilarious attempts at water-skiing!
In 1969 dad's dream to improve veterinary services in rural Manitoba was realized when he became Director of Veterinary Services for Manitoba. Moving his family to St. Norbert, MB, he dedicated his professional career to the construction of the Agricultural Services Complex and new Vet Lab, the development of a provincial Drug Distribution Centre and a Semen Purchasing Distribution Centre. Dad also implemented amendments to the Animal Diseases Act, created a veterinary summer student program and established provincial Veterinary Service Districts with 32 Veterinary Hospitals. The University of Saskatchewan recognized these innovations of the veterinary visionary with an honorary doctorate in 1993.
In 1989, dad and mom happily retired to Qualicum Beach, BC. They spent many years enjoying their ocean view, golfing and partying with friends, travelling in their motorhome and hosting family visits. Dad passed away in his daughter Edith's arms on February 26 on what would have been his 66th wedding anniversary. His favourite popcorn, peanut brittle, cashews, Scotch and a beautiful red rose for Mom accompanied him!
Dad has requested that charitable donations be made in his memory to: The Jack and Mabel McPhedran Memorial Bursary Fund - Air Cadet League of Canada (Manitoba), Suite 153,PO Box 17,000 Stn Forces, Winnipeg, MB, R3J 3Y5. The McPhedran family thanks the care givers at the Gardens in Qualicum Beach for their compassionate care to Dad. We are especially grateful to Judith Churcher for her dedicated advocacy, nourishing home-made soups, wonderful sense of humour and loving support of our father. For more information, please visit Jack's memorial website: http://jackmcphedran.wordpress.com
Jack William Roberts, born December 27, 1925, peacefully passed away on Tuesday, August 16, 2011 after a short stay at the Health Sciences Centre at the age of 85 years. Remaining to forever cherish Jack's memory is wife, Beth; son, Dick; daughters, Anne and Nancy; son-in-law, Rob; grandchildren and great- grandchildren.
Jack's youthful soul was loved and admired by his family and friends and he will be sorely missed. He always had a big heart for children and dogs and was like a big lovable kid himself. You knew when he was around because you could hear Jack's laugh across any room.
His volunteer commitment to the community at various times and places was endless. He gave his time and knowledge to Scouting, YMCA (as a founding member in Prince George), Air Cadets, Doray Enterprises and Meals on Wheels. Jack had a continuous involvement with Rotary International, eventually serving in various positions on the executive including President of the Westwin Club. He also served with most of the Electrical industry organizations such as the MEL (Manitoba Electrical League) and IES (Illuminating Engineering Society) and CEMRA. He thoroughly enjoyed his time working with the people associated with these organizations and the services they provided to the community.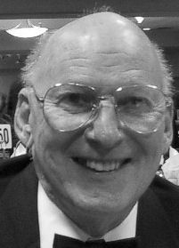 It is with great sadness that we announce that Captain John "Jack" Mowat passed away at the Pembina Place Mennonite Personal Care Home on March 13, 2010.
Jack was born in Winnipeg, Manitoba on April 29, 1925, eldest son of Edward and Naomi Mowat. Educated in Winnipeg, he joined the R.C.A.F. in 1943 (as soon as he was old enough) and was commissioned at the age of 19 as a Wireless Navigator for the Mosquito aircraft. He was discharged from service in 1945 with the rank of flying officer.
In 1945 he joined the YMCA and it was then that Jack's focus in life turned to mentoring and training young men to be proper, responsible and capable adults. From that point in time, Jack devoted the balance of his life to this task, and as a consequence, was heavily involved in the community and many organizations in his effort to improve and enrich the lives of many young men.
In 1946 he became involved in gymnastics, a sport that he loved. He was initially an active gymnast himself and later became an instructor, judge, coach and mentor to many young gymnasts. He was a founder of the Manitoba Gymnastics Association in 1967 and rose to the level of National Judging Chairman for the Canadian Gymnastics Federation, ultimately traveling throughout Canada and to Japan, Russia, Cuba, Santo Domingo and France in the capacity of Coach, Judge or Meet Director. He was the Head Coach of the Junior Gym Team from 1969 to 1987 when the Downtown YMCA closed for renovations.
From 1956 to 1985 Jack was also heavily involved with Royal Canadian Air Cadets serving initially as an instructor Supply Officer, later as Chief Training Officer and ultimately as a Commanding Officer, roles which he loved and to which he devoted his full attention. Jack was a member of the Air Cadet League Manitoba Committee and the Air Cadet League of Canada, and held many positions within both organizations.
In 1977 Jack was awarded the "Anniversary Medal" celebrating the 25th anniversary of the accession of Her Majesty the Queen for his contribution to the community for his work with youth in gymnastics as well as Air Cadets. In 1981 he was awarded a 25 year service gold pin for his membership in the Canadian Gymnastics Association and joined the honour roll of "Builders of Canadian Gymnastics". In 1988 Jack was inducted into the Manitoba Sports Hall of Fame as a Builder, an honour which he treasured throughout the balance of his life. In 1985 he received a Certificate of Service for 25 years of service to Canada from the Chief of Defense Staff of Canada. He also received a Certificate of Appreciation in recognition of services rendered to the Royal Canadian Air Cadets Gliding Program.
Following his discharge from the R.C.A.F. in 1945, Jack began his working career cleaning spark plugs for Standard Aero. His adept skills at math and keen attention to detail saw him rise through the ranks rapidly culminating in a position with the Department of National Defense in the Aeronautical Inspection Directorate as an aircraft inspector where he initially inspected P-51 Mustangs before moving on to the C.F. 101 Voodoo. He was promoted to the Canadian Forces Technical Services Detachment C.F.T.S.D. HDOTS Winnipeg. He retired in 1990 as contract manager for Itinerant Contracts.
Jack was always proud of his efforts, his principles and his achievements. He was a car aficionado, and a fine marksman. He was a raconteur extraordinaire and maintained lifelong friendships with many of the gymnasts and cadets that he instructed and who came to exemplify all that Jack had stood for and that to which he had devoted his life. He loved his time at his cottage in Lac du Bonnet with his brother Norm, who Jack missed terribly after he passed away in December 2001.
Special thanks to the Staff at Pembina Place. Jack loved his time there and had nothing but compliments for the Staff and their care of him throughout his time at the facility. Thanks.
Jack, there are so many of us who are so grateful for all that you have taught us, for your companionship, advice, leadership and friendship. We will miss you so much. We hope that we can live our lives in such a way as to make you proud.
In accordance with Jack's wishes, cremation and interment has taken place.
A Celebration Of Jack's Life will take place on Saturday, March 29, 2010 at 2:00 pm at Portage Avenue Church, 1420 Portage Avenue, Winnipeg.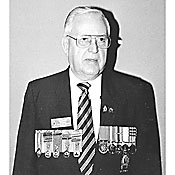 Norris Holland (Willy) Williamson passed away July 14, 2010 at the age of 83. Willy was born in Minnedosa, MB, the son of Roy and Gladys Williamson, grandson of Minnedosa homesteaders and leaves to remember him his wife Jean, daughter Norene Smiley (Greg), granddaughters Erin (Darrell Emma,and Amelia Grace born July 13, 2010) and Emma, son James (Laura), son Jon (Angela), and sister Norma Holbrook of Thunder Bay.
He attended school in Minnedosa and Brandon until 1943 when he enlisted in the Canadian Armed Forces in the Second World War. He served continuously from 1943 until 1989, R.C.A.F., Inf. Para., R.C.A.S.C., CIntC Security Branch and ended as staff officer on the Regional Staff of Air Command Headquarters.
Over the years he had strong connections with the Cadet Leagues in Manitoba and N.W. Ontario and received honours from them for his services. Willy was a dedicated Legion worker. He has been a Director of the Air Cadet League and was a Life Member of The International Peace Garden. He was a Past President and Life Member of Stonewall Branch #52, Commander of District #5, 3rd, 2nd, 1st Vice President of Command and President of Manitoba and N.W. Ontario Command from 1997 to 1999.
He loved his family, his military service, his Royal Canadian Legion service and all the friends that these interests generated. Willy loved music, participating in festival and group singing. He played in three volunteer brass bands in his younger years. He derived great enjoyment from reading newspapers, non-fiction and for contrast, poetry. He married Jean (Simpson) in 1947 and recently celebrated their 63rd Anniversary. They had earlier attended school together in Brandon and lived all over Canada and Europe, settling in Stonewall, MB in 1977.
Farewell friends, the sails are set,
The wind is East, the moorings fret
Shadows long before me lie,
Beneath the ever-bending sky,
But islands lie behind the sun
That I shall raise ere all is done
Lands there are to West of West,
Where might is quiet and sleep is rest.
- J.R.R. Tolkien
---