SUPPORT OUR AIR CADETS!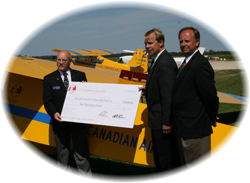 Contribute to our cadets' future

Your gift to the Air Cadet Program is a gift that will contribute to Canada's future by helping our cadets to realize their dreams and become tomorrow's leaders. Through your generosity, they will grow into active and involved members of their communities and develop their full potential in business, government, science, and education. Join us in supporting Air Cadets in Manitoba.
The Corporate Support Program at the Air Cadet League of Canada (Manitoba) Inc. offers three options and is an excellent vehicle through which a Sponsor's business and marketing objectives can be met. The three options include the:
Air Cadet Squadron Sponsorship;
Air Cadet Gliding Program;
Honours and Awards Program to recognize individual cadets who excel.
Contact us for more information on the Corporate Support Program:

You can make a difference in the Air Cadet Program by helping our cadets realize their potential and build a brighter future. Either lend a hand and volunteer your time or make a tax-deductible donation today!
Donations to honour an important event can make that occasion even more significant; gifts in honour of a family member or exceptional person will ensure they will always be remembered.

You may wish to contribute to the Air Cadet League of Canada (Manitoba) Fund managed through the Winnipeg Foundation.
---
Or
If you would like to make a donation, you may make your cheque payable to the:
Air Cadet League of Canada (Manitoba) Inc.
Suite 153
P.O. Box 17000 STATION FORCES
Winnipeg, MB R3J 3Y5

---
Or
To use your a credit card, select Donate to contribute via PayPal.
---
Upon receipt of your donation, you will receive a letter of acknowledgement, as well as an official tax receipt.
For more information about our program, or how you can make a donation, contact us or send us an email.
Thank you very much for your support!
The Air Cadet League of Canada (Manitoba) Inc. protects
your personal information by adhering to all legislative
requirements as detailed in our
Privacy Policy.
---